Storage & furniture depository
In all the regions in which it operates, DMAX has access to secure storage and furniture depositories for your belongings – everything from clothes, furniture, mirrors and paintings to crockery and books. Whatever the volume of the items that you need to store and the desired storage period, we have short-term and long-term packages to meet your requirements.
With DMAX, renting a furniture depository is a premium service
There are many reasons for renting a furniture depository. You may need to do this while waiting to be able to move into your new home, while you are an expat in another country, while waiting for probate to be completed, during construction work or alterations in your home, or simply because you want to store items that you don't have enough space for at home.
Whatever the circumstances, you need a safe and secure area where you can store your property and a zero-fault service. This is what DMAX offers you. With DMAX, your belongings are securely stored in areas that are surveyed 24 hours a day in sealed individual containers that protect them against, humidity and shocks. You can choose the storage time for your belongings – a week, several months or even several years – and obviously you can extend this period if you need to.
Furniture depository procedures with DMAX
The first step involves accurately assessing the volume and type of items to be stored. Our advisers will help you to do this so as to determine the most appropriate container or containers. Before your items go into the depository, a detailed inventory is drawn up.
You can take your items to the depository yourself, or DMAX can do it. If you entrust the task to DMAX, you can be certain of a careful service – from when your items are collected right up until when they are placed in the depository. Similarly, at the end of the service, DMAX can deliver your items to a location of your choice. DMAX can organise appropriate insurance for all of its depository services.
Each item that goes into the depository is carefully handled and protected
You can store all types of property – including fragile items – in DMAX repositories. Items are stored in individual containers (8 to 67 m3) and are monitored 24 hours a day. Outsized items that don't fit into containers can be placed on the ground, and enjoy full protection.
Furniture is individually wrapped with suitable materials, for better protection (against humidity, shocks, pests, etc.).
Other items (books, small objects, crockery, computers, etc.) are placed in cardboard boxes or closets, or packaged using suitable materials for long storage – whatever the initially planned storage period:
– large boxes for IT equipment (CPU, screen, keyboard, etc.),
– boxes with cross pieces for bottles and glasses,
– double-groove impact-resistant boxes for standard lamps.
The items are then placed in clean, disinfected containers for optimal conservation. The capacity of these containers varies depending on your requirements:
– traditional marine timber crates (8 to 12 m³),
– aluminium or steel shipping containers (33 to 67 m³).
The depositories are sealed in your presence and will only be opened when requested by you.
Where are the DMAX depositories located?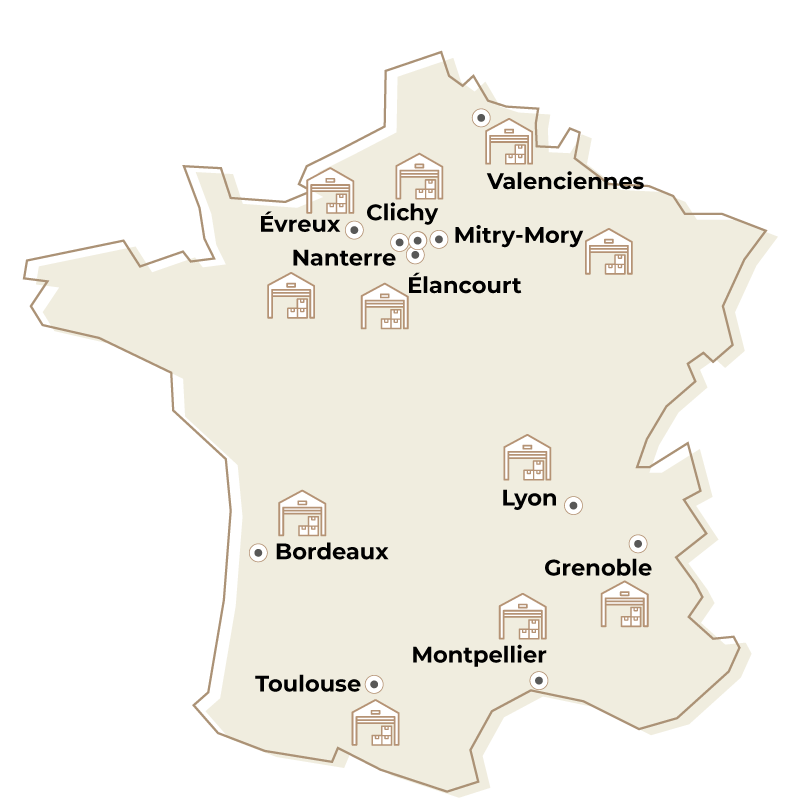 DMAX ILE-DE-FRANCE – 01 41 34 33 33
PARIS (CLICHY)
Short-term storage, archiving & furniture depository – Capacity: 10,000m3
PARIS OUEST (ÉLANCOURT)
Storage, archiving & furniture depository – Capacity: 18,000m3
PARIS (NANTERRE)
Storage, archiving & furniture depository
PARIS NORD-EST (MITRY-MORY)
Storage & furniture depository
DMAX NORMANDIE – 09 70 70 33 33
ÉVREUX (CONCHES-EN-OUCHE)
Storage & archiving – Capacity: 20,000m3
DMAX HAUTS-DE-FRANCE – 03 27 48 30 30
Valenciennes (Saint-Amand-les-Eaux)
Storage, archiving & furniture depository – Capacity: 2,000 m3
DMAX AUVERGNE RHÔNE-ALPES
Grenoble – 04 76 84 44 89
Storage, archiving & furniture depository – Capacity: 10,000 m3
LYON (GENAS) – 04 28 29 53 53
Storage, archiving & furniture depository – Capacity: 4,200 m3
Angoulême (Puymoyen)
Storage & furniture depository
Bordeaux (Cenon) – 05 56 42 34 23
Storage & furniture depository – Capacity : 4,020 m3
Toulouse (Grenade) – 05 61 47 85 47
Storage & furniture depository – Capacity: 51,000 m3
Montpellier (Castelnau-le-Lez) – 04 67 55 06 68
Storage & furniture depositorys – Capacity : 5,200 m3
of our moves are undertaken by DMAX teams
DMAX has all the equipment necessary to keep your property secure
Vaults for valuable items,
CCTV systems,
Building health monitoring systems,
Fine detection systems.
Briefly describe your project. We'll get back in touch quickly