DMAX, the specialist in premium moving
Make your move a new start
Each move is unique and is often a very special moment in life. Our goal is to eliminate anything that can cause unnecessary stress or avoidable complications for you. With DMAX, you get all our attention, from the very first contact right up until you move into your new home. Our clients' satisfaction depends first and foremost on our ability to listen, and then on the quality of our methods, the professional approach of our teams and the high performance of our logistics and material resources.
Every year, thousands of individuals choose DMAX to help them move
DMAX specialises in helping individuals to move, and is renowned for the quality of the services it provides. DMAX has complete control over organisation and preparations, it treats all the items entrusted to it with great care, it delivers its services quickly and with all the appropriate guarantees… and it leaves nothing to chance, providing a complete range of services (moving house within France and internationally, handling, storage and depository services, minor works* and repairs*, etc.).
DMAX manages thousands of operations of all sizes every year, throughout France and internationally. Our goal: zero faults and 100% satisfied clients Our Quality, Health & Safety and Environment management systems are certified (Polycert ISO 9001, ISO 14001 AND OHSAS 18001 certifications).
*In the Ile-de-France region
Precise and demanding working methods, applied to each phase of the move (preparatory visit, packaging/unpacking, dismantling/reassembly, handling, loading/unloading, re-installation). Each operation is supervised and coordinated by a team leader.
Expert, committed and responsible teams. Our employees are all trained and supervised. They are removal professionals who work with care and diligence. Their average length of service at DMAX is seven years.
An efficient and diversified fleet, guaranteeing quality and productivity. All our vehicles (HGVs and light utility vehicles) are under 3 years old, are bought new and are perfectly maintained. They are also GPS-tracked. This means that we can track each vehicle's journey and warn our clients of any delays or send in a backup team that is in the vicinity. GPS-tracking also encourages people to drive responsibly and economically.
Modern equipment. Furniture carries, trolleys, filing cabinet carries, rolling shelves, rolls, ramps, etc. The handling methods that DMAX uses enables it to protect the items entrusted to it and ensure that the work is as non-arduous as possible for the movers.
of our moves are undertaken by DMAX teams
DMAX goes to every effort to ensure that your move is executed under the best possible conditions and undertakes to:
1
Visit you
before the move
2
Analyse 
your needs and provide you with tailored solutions
3
Guarantee
that all appropriate resources are deployed
4
Adhere
to the defined schedule
5
Adapt
its teams and resources to cater to the unexpected
6
Securely
monitor your move
8
Resolve
any incidents encountered during the move
DMAX: Innovations that make moving easier
DMAX is constantly improving its practices and innovating to make moving easier and more efficient. Our innovations include:
DBOX®, a true ecological, technological and economic innovation that makes traditional cardboard look a little obsolete. Made of cellular polypropylene, a recycled and recyclable material, the D-BOX® can be assembled in less than 10 seconds, without any glue or adhesive. It can be reused over 40 times. It is easier to handle, stiffer and more water resistant than cardboard, and can be lead-sealed if needed.
DPAD®, the application that speeds up project preparation. All the information needed for your move, including the details of volumes, are recorded on site, thanks to an iPad application. The result is valuable time savings. After the visit, DMAX is able to provide a comprehensive inventory and an initial budgetary estimate.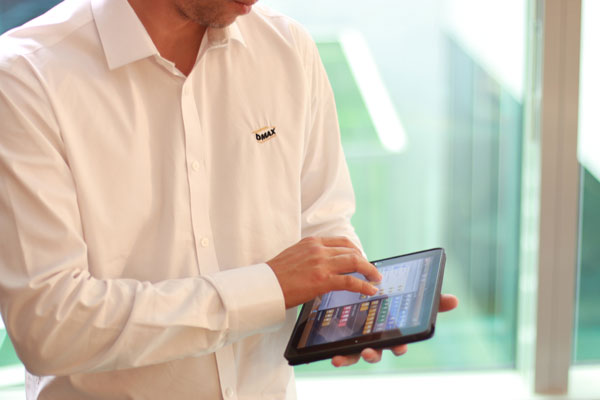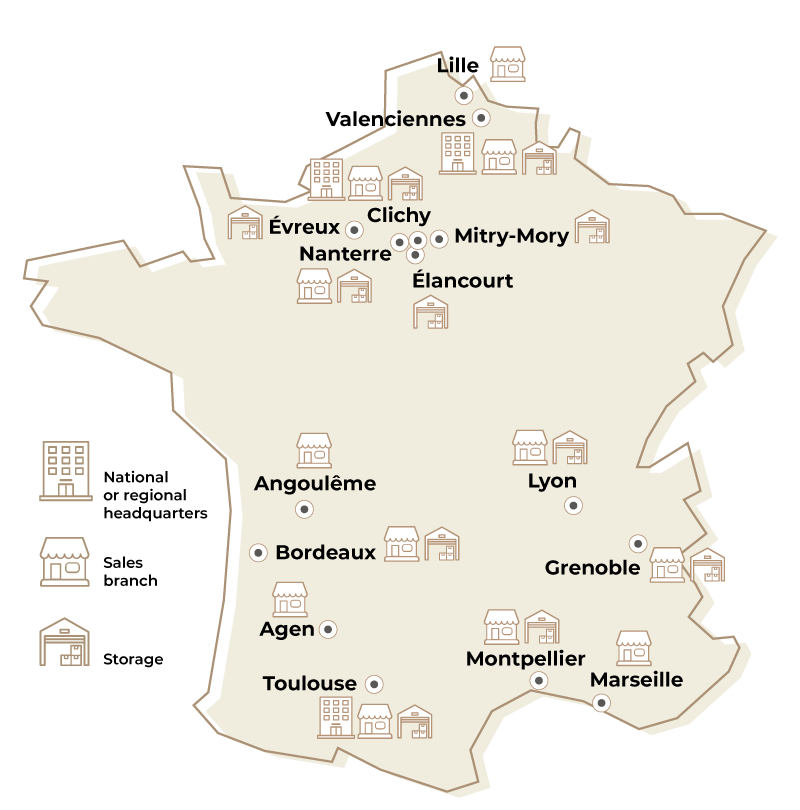 DMAX operates throughout France and internationally
DMAX has a large network of branches throughout France and internationally, all offering the same premium service. DMAX operates regular links with neighbouring countries (Switzerland, Belgium, Luxembourg, Germany and Spain) and works in partnership with specialists for long-distance removal operations. DMAX supports its clients throughout the operation and provides all the necessary services and guarantees for an international move.
Briefly describe your project. We'll get back in touch quickly